FDA: Trucks Used for Storing COVID-19 Victims Haul Food After Cleaned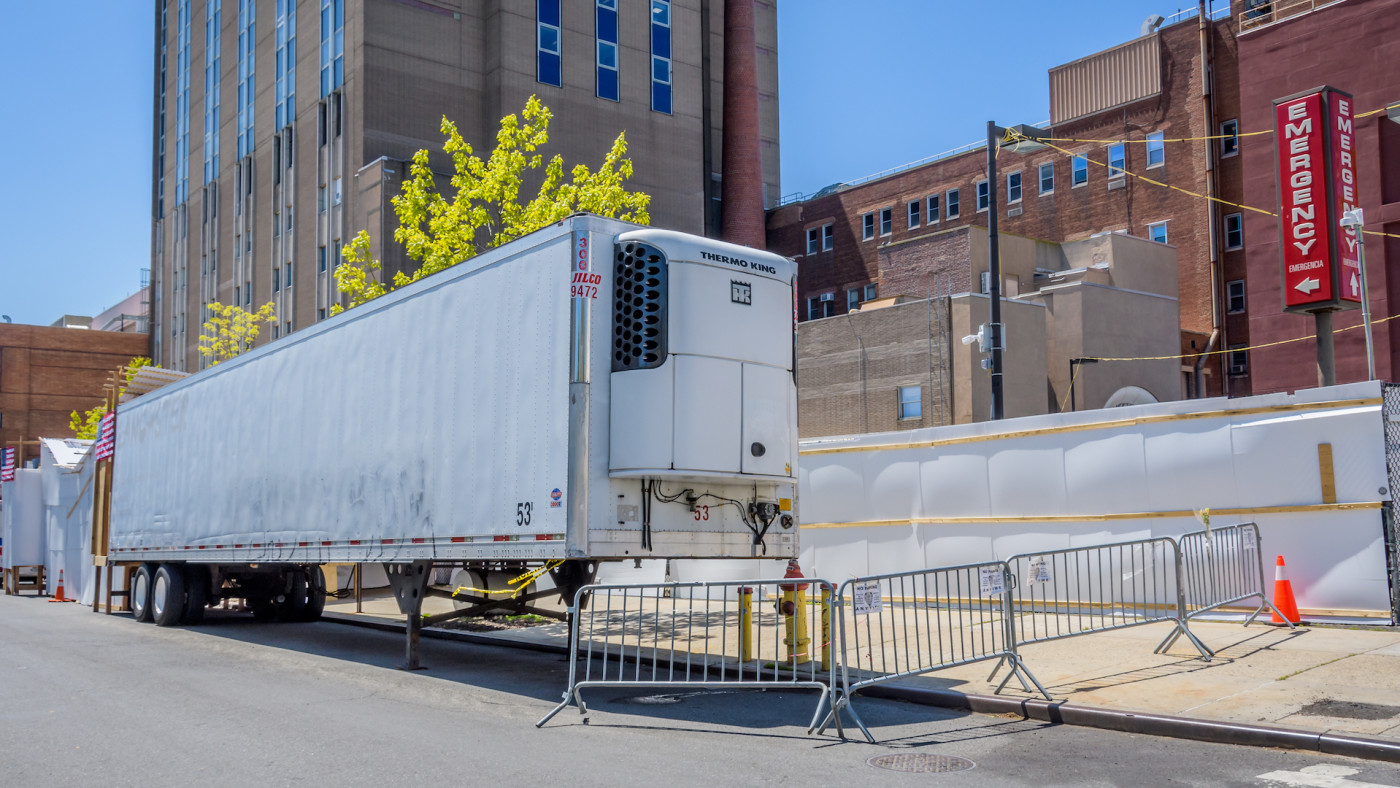 Refrigerated trucks that stored bodies of coronavirus patients during the pandemic can go back to transporting food after undergoing exhaustive cleaning.
The FDA released a shocking handbook on how to disinfect the big rigs so that they can haul food, even if they were exposed to blood or bodily fluids. "During the COVID-19 pandemic, additional refrigerated storage is needed for human remains," the document reads. "Therefore, refrigerated food transport vehicles and refrigerated food storage units ordinarily used for food preservation may be temporarily used to preserve human remains."
"When additional refrigerated storage is no longer needed, industry may wish to return the trailers and storage units to use for food transport and storage."
The trucks were used in virus hotspots like New York City, where they were parked outside hospitals, morgues, and funeral homes as deaths overwhelmed the healthcare system. The FDA shared the handbook after owners of the trucks asked how to safely convert them back to the transport food.
"Refrigerated food transport vehicles and refrigerated food storage units used for the temporary preservation of human remains during the COVID-19 pandemic subsequently can be safely used for food transport and food storage under certain circumstances," the guidance reads.
All surfaces have to be "thoroughly cleaned and [then] disinfected," maybe even several times, with EPA-registered cleaners. Air and water sprays can't be used to disinfect the vehicles, and workers might have to wear protective gear while cleaning.
In instances where "interior surfaces were in direct contact with blood or bodily fluids," the FDA writes that it's okay to use the truck again, as long as the contaminated surfaces aren't made from materials that can't be thoroughly cleaned, like unfinished wood or crack fiberglass.
If the truck "is permeated by offensive odors that cannot be eliminated through cleaning and disinfecting," then it should be discarded, the guidance states.
cx