Almost 20% of NYPD's uniformed staff are off sick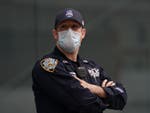 Nearly 20 per cent of the New York Police Department's (NYPD) uniformed staff are off work sick, amid the coronavirus pandemic.
CNN report that 7,155 of the NYPD's uniformed staff are currently off sick, which is 19.8 per cent of their 36,000-strong force.
The number is more than double the 3,119 members of the force who have tested positive for Covid-19 in recent weeks.
Of that figure, 243 have returned to work after taking time off ill.
The figures represent a rise in staff off sick, as on Monday, only 6,974 uniformed members of the NYPD were off work.
On Monday, a 12th staff member from the NYPD died after contracting the virus.
New York State has been badly affected by the coronavirus outbreak and currently has the largest amount of positive cases in the US.
Google's specialised coronavirus page shows that upwards of 87,028 people have tested positive for the virus in the state. The death toll has reached at least 5,280.
During a press conference on Monday morning, Mayor Bill de Blasio said that the amount of NYPD uniformed staff off work sick is not a concern.
"I spoke to Commissioner Shea this morning. We went over the situation with absentees but we also went over the return rate which has gotten very strong," he said.
"The vast majority of patrol officers in the NYPD are younger and very healthy people ... so, the extent they've been exposed to the virus they're coming back rapidly."
According to a tracking project hosted by Johns Hopkins University, upwards of 451,491 people have tested positive for coronavirus in the US. The death toll has reached at least 16,129.