Ralph Lauren Caught Using Black Fraternity Symbol On Pants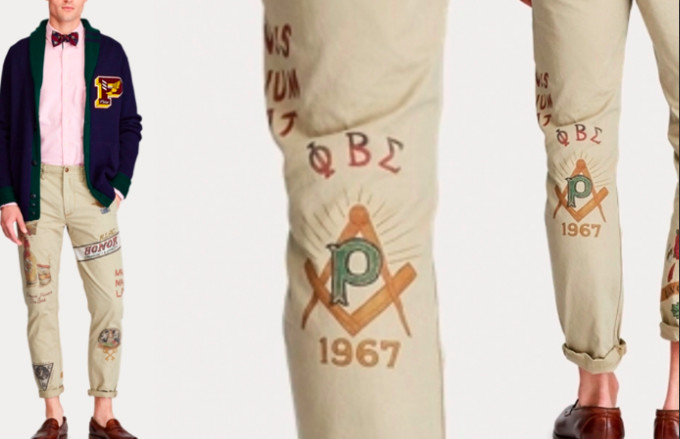 Now the company has issued an apology and said the item is no longer available for purchase.
Watch The Yard, a website that features news about historically black colleges and universities, was the first to sound the alarm about the pants, which featured the letters of the black Greek organization Phi Beta Sigma Fraternity Inc. The chinos were for sale for 299.99€ on Ralph Lauren's French website, which is about $334.
A Change.org petition on behalf of Phi Beta Sigma, an organization that was founded at Howard University in 1914 that recently celebrated its 106-year anniversary, quickly followed calling for Ralph Lauren Corp. to remove the chinos from its website.
The company took this complaint seriously. It discontinued the sale of the pants that retailed for 299.99 euros (close to $334 USD). The Ralph Lauren Corp. also issued a public apology on Tuesday for the incident, claiming that the design was an "oversight."
"We are demanding that Ralph Lauren do the right thing and RECALL, DESTROY, & PUBLICLY APOLOGIZE for trying to capitalize off of Black Culture!" the petition read. "We don't know WHO thought that this was a good idea; but they need to fix it quick!"
As of Thursday morning, the petition has more than 500 signatures.
In response, Ralph Lauren removed the product from its website. In a statement to Yahoo Lifestyle, a company spokeswoman noted it has also reached out to Phi Beta Sigma officials.
"The use of these symbols on our products was an oversight for which we deeply apologize. We took immediate action to remove the product from our sales channels," the statement read. "While we have a rigorous review process in place for all of our designs, this has prompted us to take another review of our protocols to help ensure that this does not happen again.
"As an American brand with more than 50 years of heritage, Ralph Lauren is inspired by many facets of American culture. As part of this, we are firmly committed to respectful and appropriate use of all cultural icons and insignias."
visit this link https://www.yahoo.com/lif .. 152625945.html