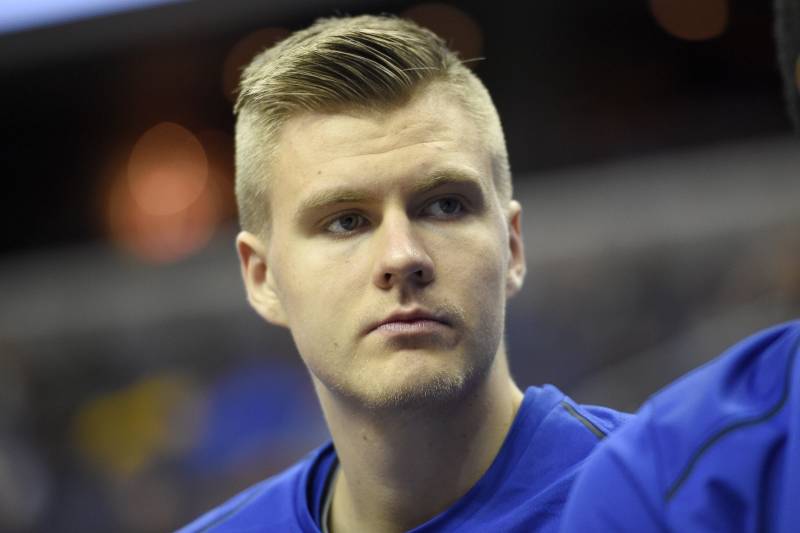 New York Knicks power forward Kristaps Porzingis shrugged off questions about failing to secure a starting spot for the 2018 NBA All-Star Game due to fan and media voting.
On Friday, Stefan Bondy of the New York Daily News passed along comments from Porzingis, who finished ahead of the Philadelphia 76ers' Joel Embiid in votes from fellow players, but behind him in both the fan and media tallies.
"Players know," he said. "That's all I'm going to say."
Embiid, the Cleveland Cavaliers' LeBron James and the Milwaukee Bucks' Giannis Antetokounmpo were announced as the three frontcourt starters from the Eastern Conference on Thursday.
James and Antetokounmpo were slam-dunk selections. They rank first and second in the conference in Value Added, according to ESPN.com. The third frontcourt spot was more wide open, though.
Based on Value Added, the spot could have gone to Detroit Pistons center Andre Drummond, who's sixth. There's little difference between Embiid (11th) and Porzingis (12th), though the Knicks star's post partner, Enes Kanter, actually ranks ahead of them both in ninth.
The Sixers' standout has become a social-media sensation, however, which likely helped push him over the top in the fan vote.
Porzingis should still make the final roster for the marquee Feb. 18 event at Staples Center in Los Angeles once the reserves, which are selected by the league's coaches, are announced next week.
"We'll see. I would hope so. In my mind, I deserve it," he said, per Bondy. "All I got to do is play good and win games and the results will take care of itself. I shouldn't be too worried about who is going to vote for me and who is not going to vote for me."
Porzingis has averaged a career-best 23.6 points to go along with 6.9 rebounds, 2.4 blocks and 1.2 assists across 39 appearances in his third year with the Knicks.