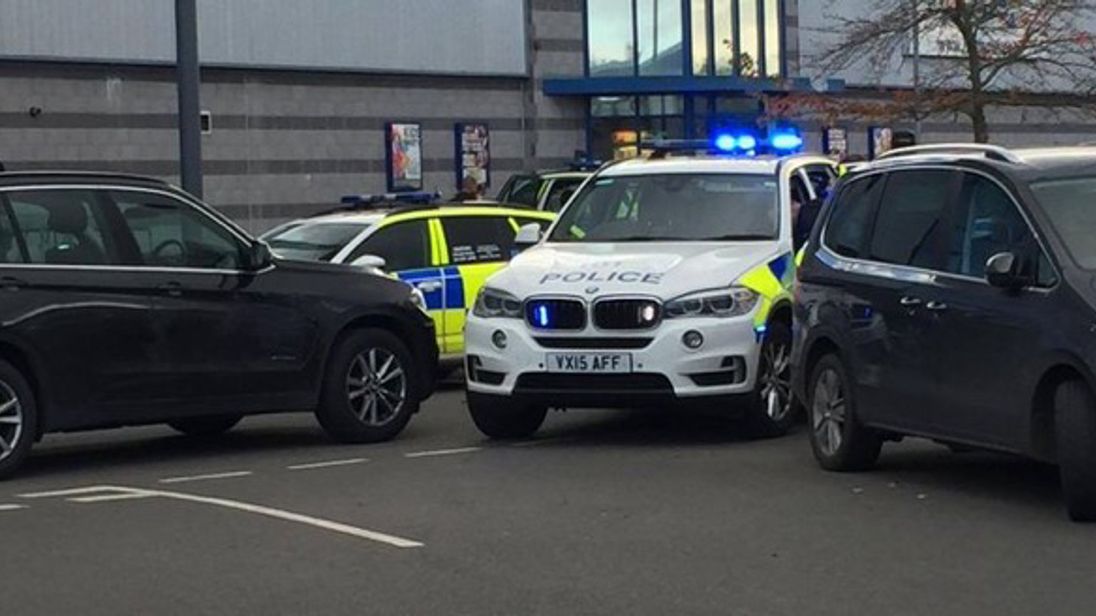 A man armed with a shotgun has taken hostages at a bowling alley in Nuneaton, according to a witness who has spoken to police.
Speaking to Sky News, Sarah Fleming said Bermuda Park in Nuneaton was on lockdown.
Warwickshire police said they were dealing with an "ongoing incident" at the leisure park and were urging people to avoid the area.
Footage from the scene showed armed police in a car park.
Ms Fleming said she was in a nearby Frankie and Benny's restaurant and police have told her she would have to stay there for 4-5 hours.
No-one was allowed in or out of the premises, where there were lots of children, she said.
She added: "Everyone is a little bit scared at the minute."
She said she had not seen the gunman herself but had been told about the armed man by police who surrounded the building.
Another witness at the restaurant Carl Lenton said the manager told him the area was in lockdown after a man had a gun nearby.
He said police cars were at the scene, along with a helicopter and police dogs.
Speaking to Sky News, Mr Lenton said it was "quite scary at times".
He said he was able to leave the restaurant after he gave officers his car keys and they brought the vehicle around to a safer location nearby.
Mr Lenton told Sky News he had now departed the scene.
He said customers who were allowed to leave had cars further away from the immediate area of the "ongoing incident" while people with vehicles closer had to remain.
The park includes a cinema, soft play area, fitness centre, as well as the bowling alley.
Nuneaton MP Marcus Jones told Sky News: "It is a situation where I think we need to let the police do their job and I think this is an extremely concerning situation.
"But I have every confidence that Warwickshire Police are capable and are able to deal with what looks like a very difficult situation."